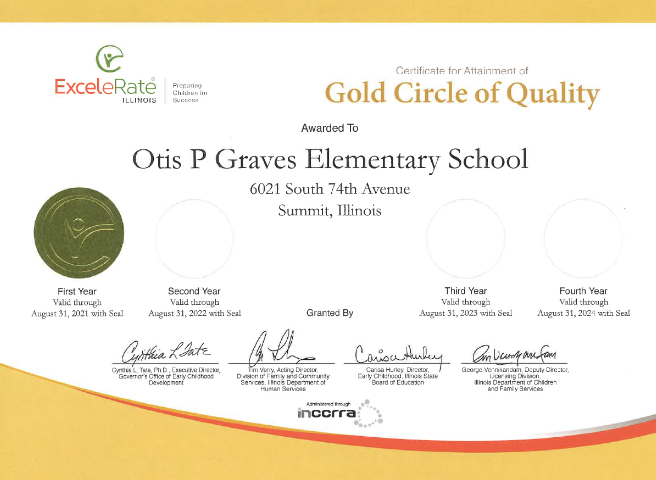 SD104 Graves Pre-K Program Receives "GOLD CIRCLE OF QUALITY AWARD"
School District 104
Thursday, October 22, 2020
District 104 Pre-K program was the proud recipient of the highest award given to Pre-K programs in Illinois. The Pre-K program was awarded the "GOLD Circle of Quality." Gold Circle programs have met the highest quality standards in three areas: learning environment and teaching quality; administrative standards; and training & education. Programs are actively engaged in continuous quality improvement. Congratulations to our staff, students and families! Any new students interested in joining our program please call the Pre-K office 708-458-7260.
El programa Pre-Kinder del Distrito 104 recibió con orgullo el premio más alto otorgado a los programas de Pre-Kinder en Illinois. El programa de Pre-K fue galardonado con el "Círculo de Calidad GOLD." Los programas Gold Circle han cumplido con los más altos estándares de calidad en tres áreas: entorno de aprendizaje y calidad de la enseñanza; normas administrativas; y formación y educación. Los programas participan activamente en mejorar la calidad. ¡Felicitaciones a nuestro personal, estudiantes y familias! Cualquier estudiante nuevo interesado en unirse a nuestro programa por favor llame a la oficina de Pre-Kinder al 708-458-7260.