Las "Fotos con Santa" serán el lunes 19 de diciembre. Consulte el siguiente folleto para obtener más información. Graves PTO "Photos with Santa" will be on Monday, December 19, 2022. Please see the following flyer for more information.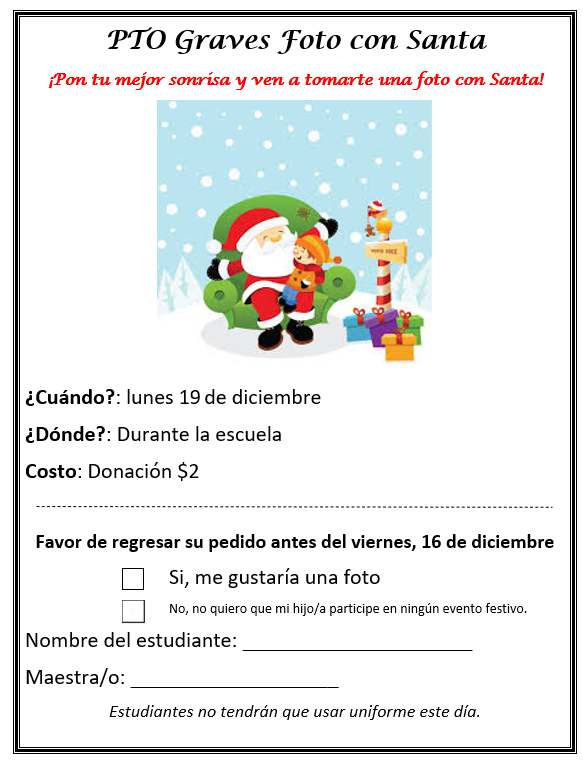 Graves PTO Family "Trunk A Treat" and Movie Night. See following flyer for more information.

Familias de Graves, Debido a la seguridad de nuestros estudiantes, no publicaremos listas de aulas en nuestras puertas como lo hemos hecho en el pasado. Nos disculpamos por las molestias, pero queremos que sea una prioridad mantener a nuestros estudiantes seguros. Puede enviar un correo electrónico / llamar a la oficina para saber el nombre y salón del maestro de su hijo/a, o puede consultar Seesaw ya que hemos publicado las listas allí. ¡Gracias y que tengan un gran fin de semana! Graves Parents, Due to our student's safety, we will not be posting classroom lists on our doors as we have in the past. We apologize for the inconvenience, but we want to make it a priority to keep our students safe. You can email/call the office to know your child's homeroom teacher, or you can check Seesaw as we have posted the lists on there. Thank you and have a great weekend!

¡Cambio de fecha! Día de campo ahora será el MARTES, 31 DE MAYO. Change of Date! Field Day 2022 is now taking place on TUESDAY, MAY 31st

RECORDATORIO: ¡Mañana, 8 de febrero Kinder-4º grado celebrará el 100º DÍA DE CLASES! Los estudiantes pueden venir vestidos como si tuvieran "100 años" o "crear una camisa con 100 artículos" Vean las siguientes fotos para obtener ideas. REMINDER: Tomorrow, February 8th Kindergarten-4th Grade will celebrate the 100TH DAY OF SCHOOL! Students may come dressed as if they were "100 years old" or "create a shirt with 100 items" Take a look at the following pictures for ideas.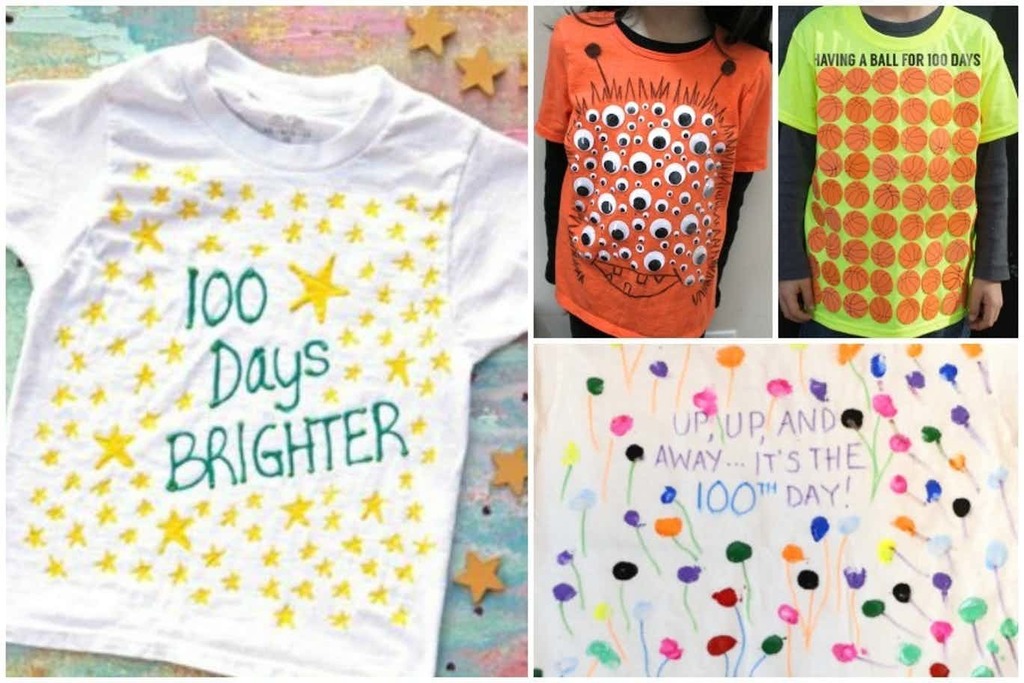 RECORDATORIO: Estimados padres y estudiantes, Recuerden que todos los programas extracurriculares (S.M.A.R.T. Math, S.M.A.R.T. Literacy, TinkRworks, Folkloric, Fitness, Mariachi y Through My Sole) continuan hoy, el 18 de enero de 2022. ¡Gracias! REMINDER: Dear Parents and Students, Please remember that we are resuming all after-school (S.M.A.R.T. Math, S.M.A.R.T. Literacy, TinkRworks, Folkloric, Fitness, Mariachi, and Through My Sole) programs today, January 18, 2022. Thank you!

Trote de Pavo 2021 Recuerden que mañana los estudiantes pueden estar sin uniforme para nuestro trote anual de pavo. Ya que estarán afuera corriendo favor de asegurarse que vengan con ropa para correr y vengan bien abrigados con guantes y gorra. ¡Recuerden de traer una botella de agua! Turkey Trot 2021 Remember that students may be out of uniform tomorrow for our annual Turkey Trot. Students will be outside running, so we encourage warm athletic clothing with a warm winter jacket, gloves, and a hat. Remember to bring a water bottle!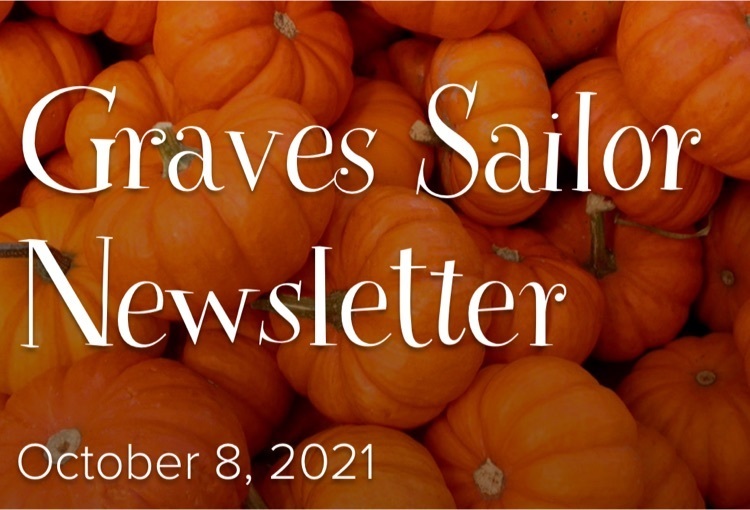 CASA ABIERTA DE SOCIOS COMUNITARIOS miércoles, 22 de septiembre a las 6:00pm. Obtenga más información sobre la amplia gama de servicios disponibles en Summit. Vea el siguiente boletín para más información. Join us on Wednesday, September 22 at 6:00 pm for the COMMUNITY PARTNER OPEN HOUSE. Learn about the wide range of services available in Summit! Check out the flyer for more information.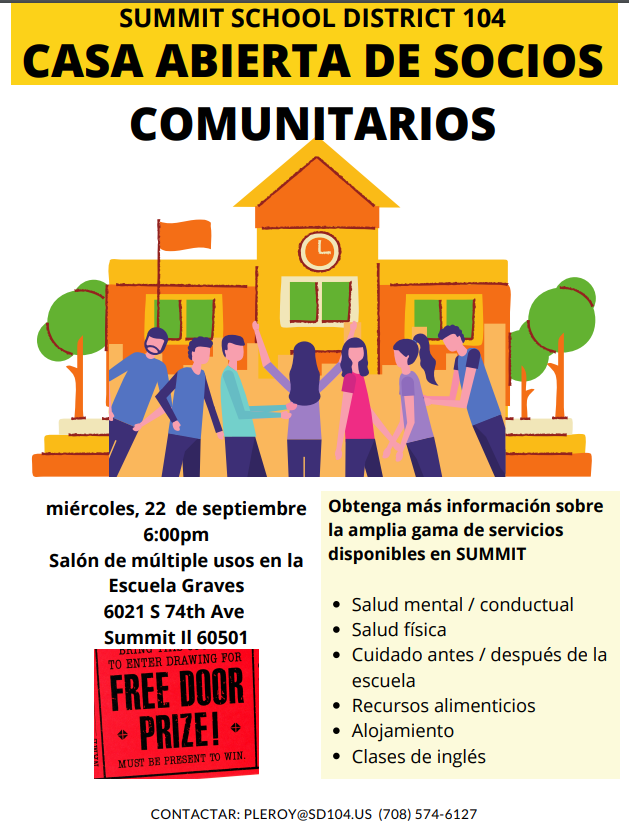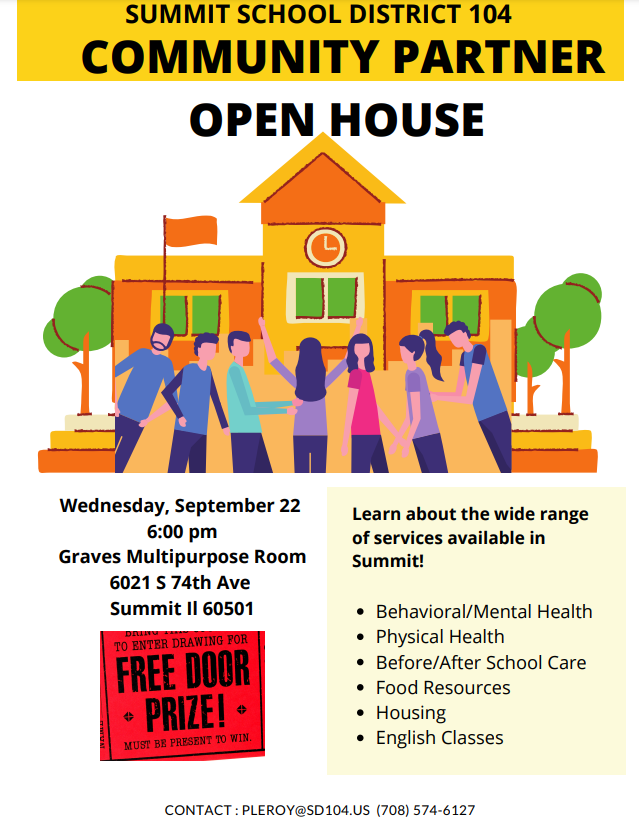 REMINDER: Picture day will be Friday, September 10th. Wear your best outfit and smile big for the camera! 😁 RECORDATORIO: El día de las fotografías será el viernes 10 de septiembre. ¡Usa tu mejor atuendo y sonríe a lo grande para la cámara!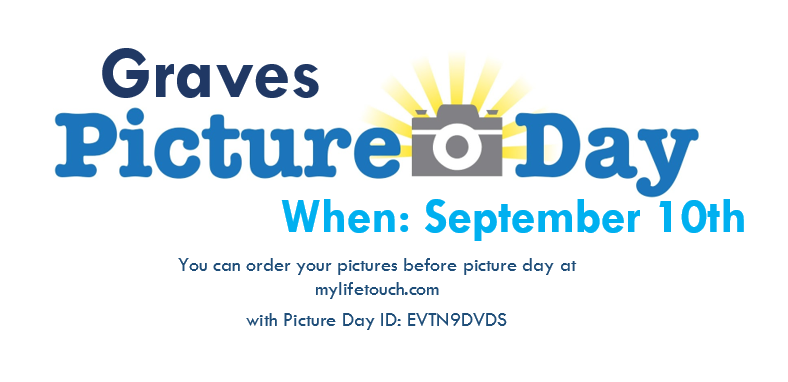 Picture day will be Friday, September 10th. Wear your best outfit and smile big for the camera! 😁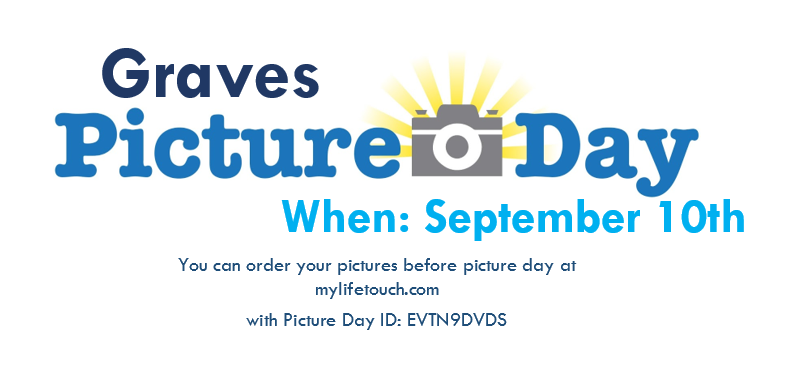 ¡Llegaron las polos escolares! Pueden pasar cualquier día a comprar las polos escolares a $7.00. De 8:30am-2:00pm Puerta #14 de la escuela Graves. Cantidades son limitadas. Vengan antes de que se terminen.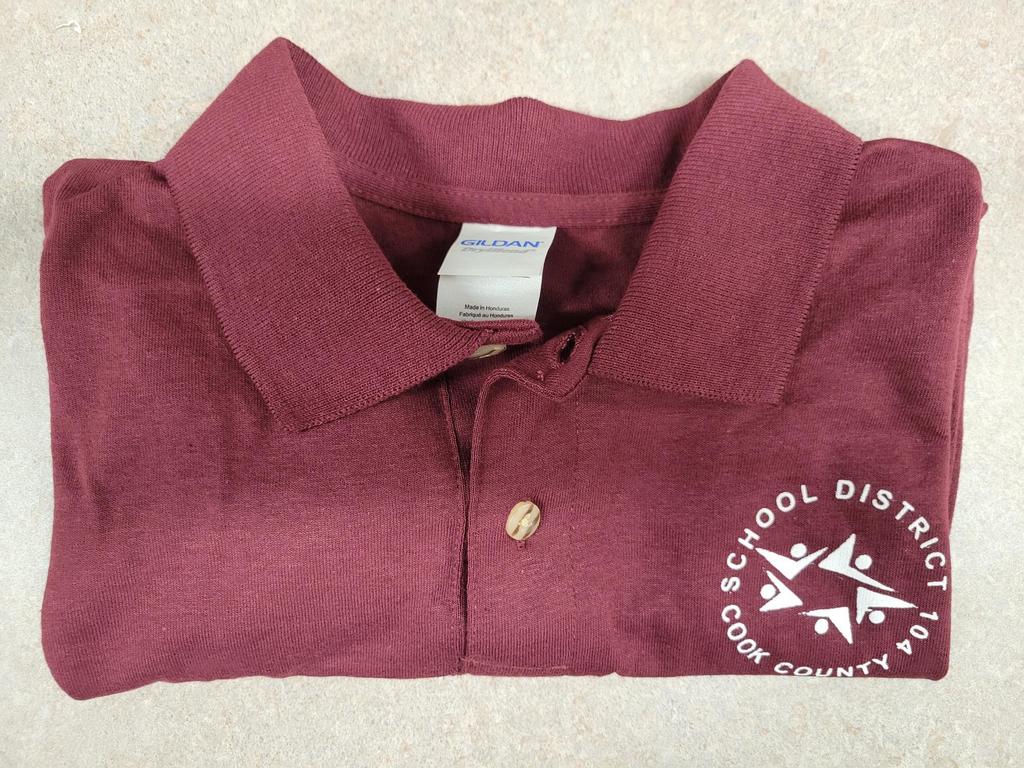 School Polos are here! You can stop by any day to purchase school polos for $7.00. From 8:30am-2:00pm. Graves Door #14. Limited quantities available, come before they are gone.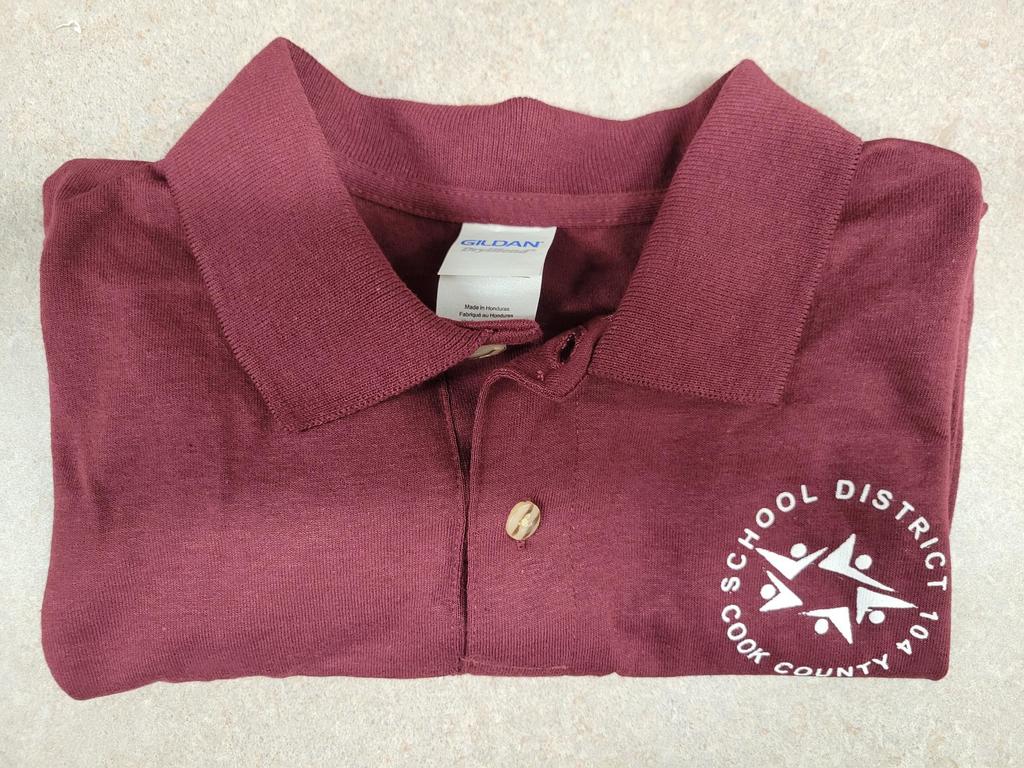 La inscripción en línea para los nuevos estudiantes entrando a Kinder ya está disponible. Por favor, póngase en contacto con el SRO oficial del distrito para verificar su residencia y recibir más instrucciones. Contacto: Sr. Armando Domínguez 708-546-6573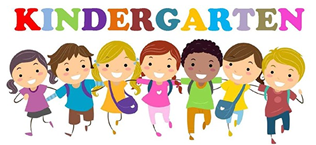 Online Registration for new students entering Kindergarten is now available. Please contact the district SRO to verify residency and receive further instructions. Contact: Mr. Armando Dominguez 708-546-6573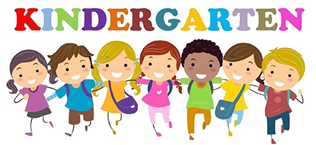 RECORDATORIO: Si no tuvieron la oportunidad de pasar por los paquetes de aprendizaje de verano (grados 1º, 2º, y 3º) o por los certificados de los estudiantes de 4º grado volveremos a pasarlos hoy, miércoles 2 de junio de 10:00AM a 4:00PM a través de la parte posterior de la puerta del edificio #7 (cambio de autobús). Gracias

REMINDER: If you did not get a chance to stop by and pick up the summer learning packets (grades 1st, 2nd, and 3rd) or certificates for 4th grade, we will again be passing them out today, June 2nd from 10:00AM – 4:00PM via the back of the building door #7 (bus turn-around). Thank you

La recogida de los paquetes de aprendizaje para el verano para los grados 1º, 2º, y 3º será el viernes, 28 de mayo de 10:30AM - 12:00PM. una vez más por la parte trasera del edificio (cambio de autobús). Estamos tratando de que nuestra recogida sea sin contacto. Si se puede, favor de abrir la cajuela para evitar el contacto. Si no es posible conducir, por favor recoja a través de la puerta 7 y siga el distanciamiento social. Por favor, anote el Apellido y el Grado/Maestro de su hijo en un pedazo grande de papel si es posible, para que sea más fácil mantener el distanciamiento social. Los estudiantes que devuelvan estos paquetes completos el primer día del próximo año escolar serán inscritos en una rifa. Gracias, Sra. Arteaga y Sr. Guillén