Discover and Understand Your Child's Learning Styles Descubriendo y Entendiendo los Estilos de Aprendizaje de su Hijo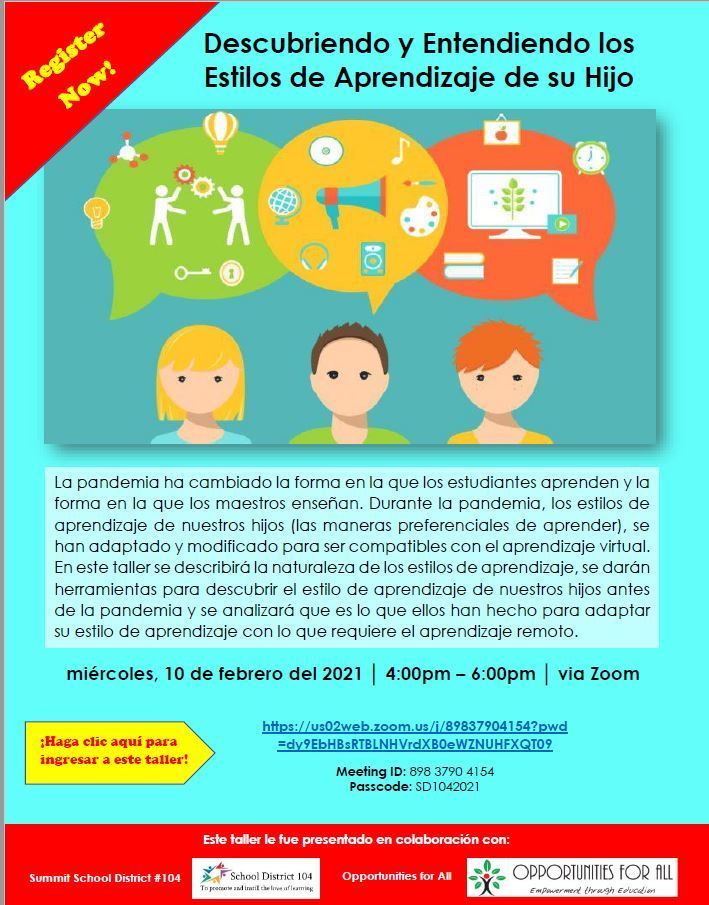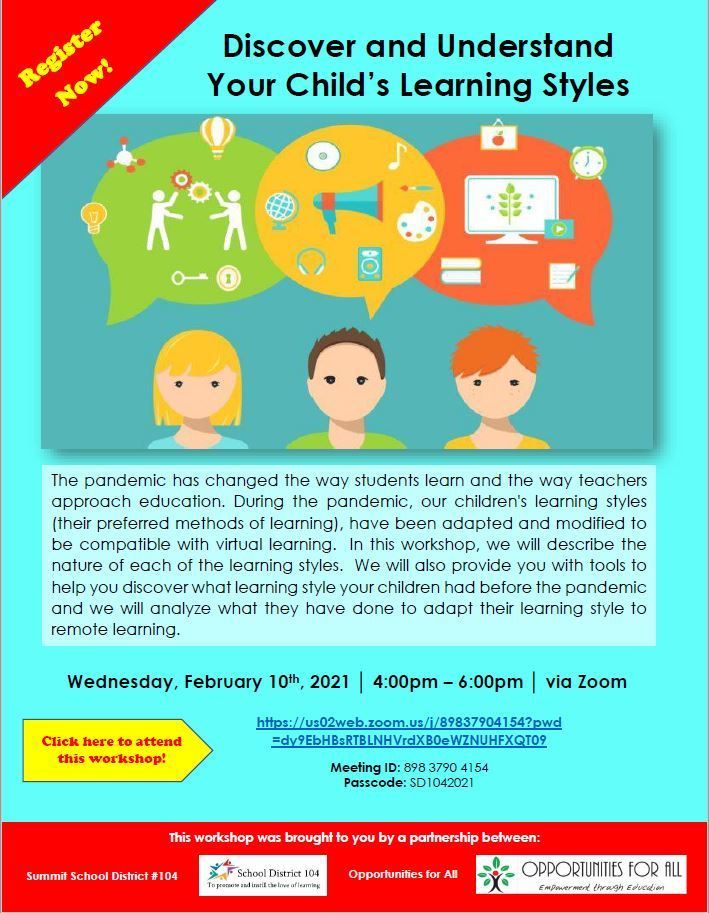 The Traveling World of Reptiles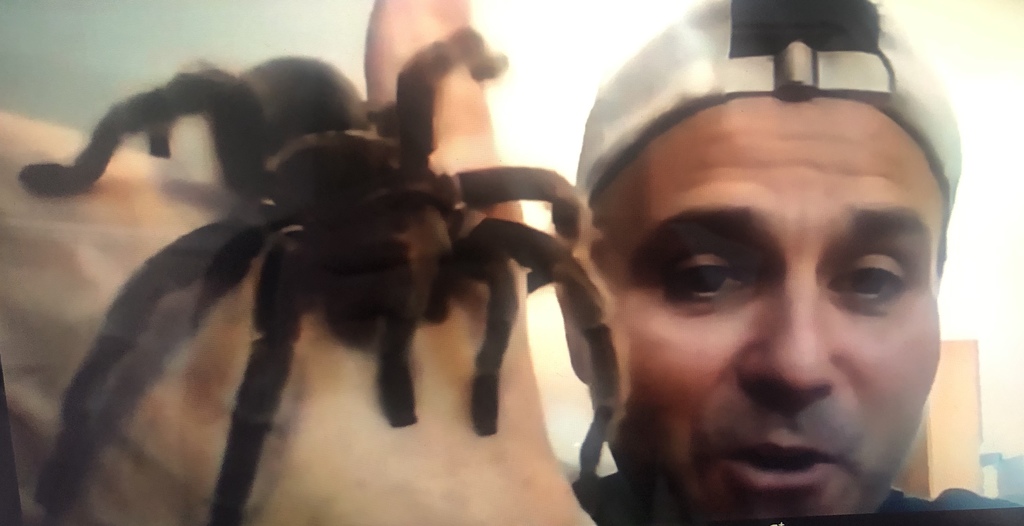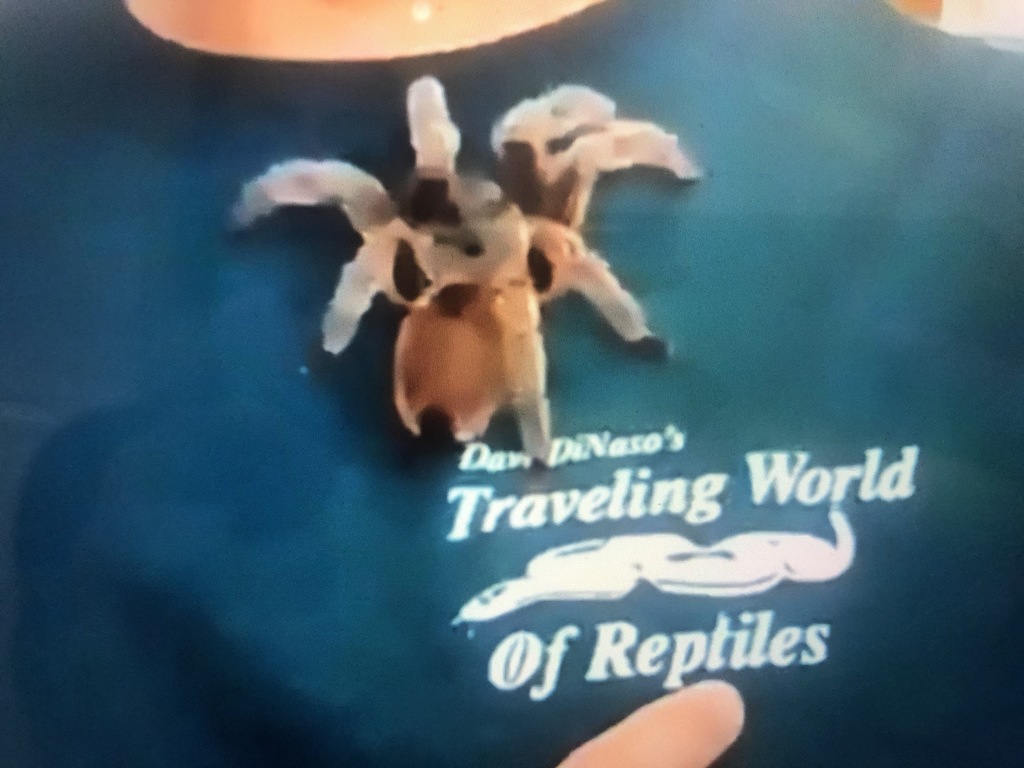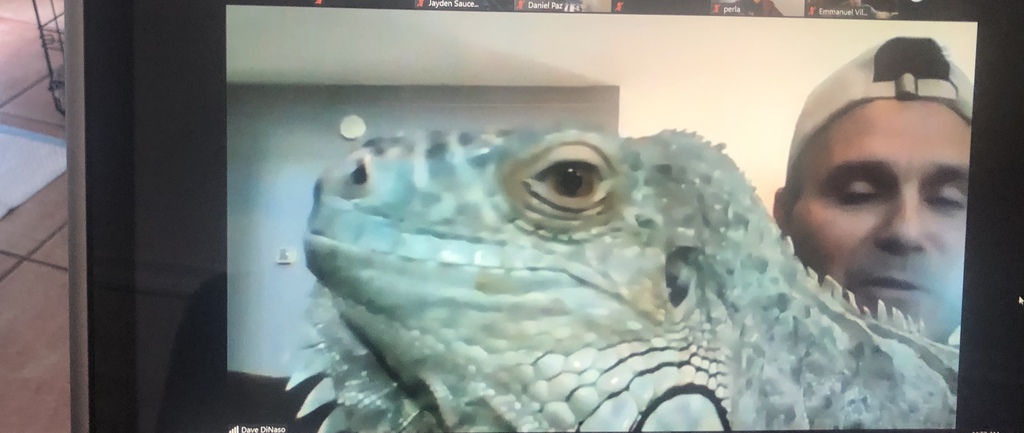 The Traveling World of Reptiles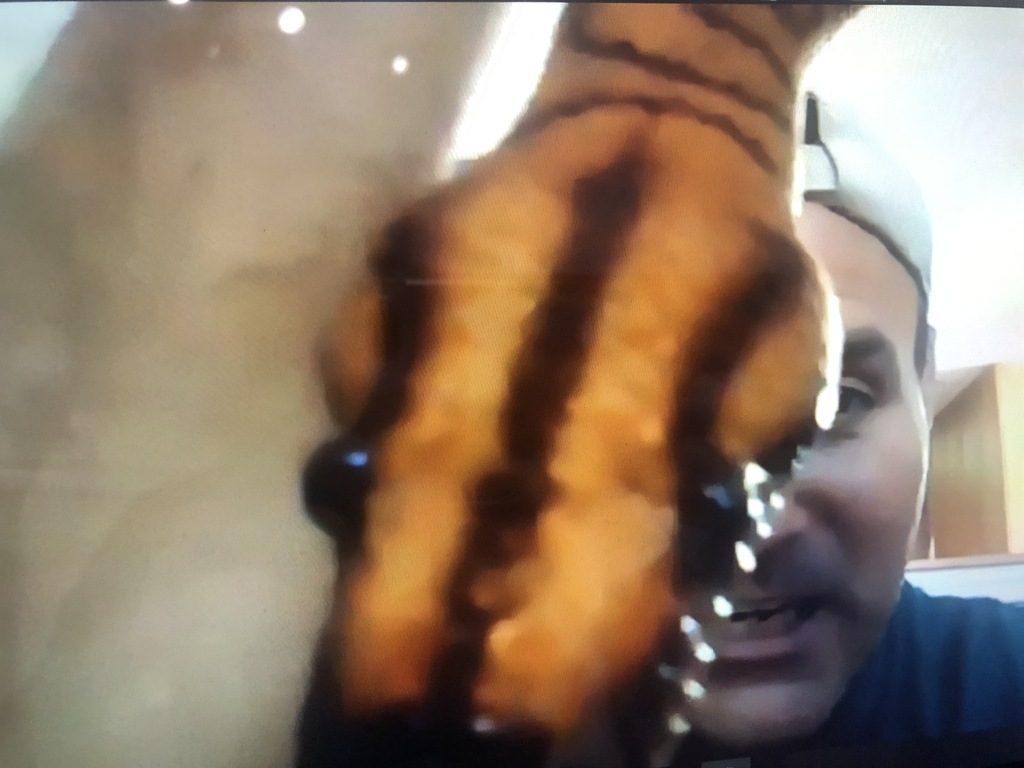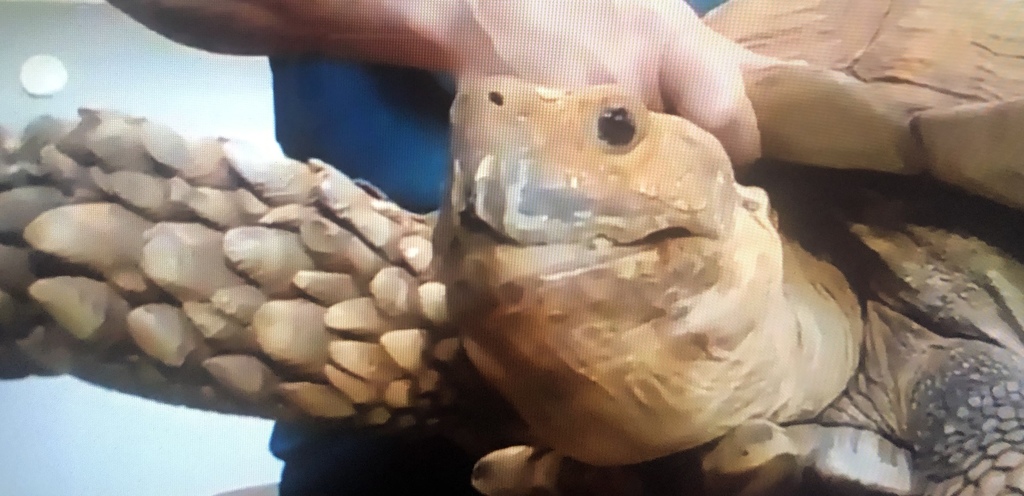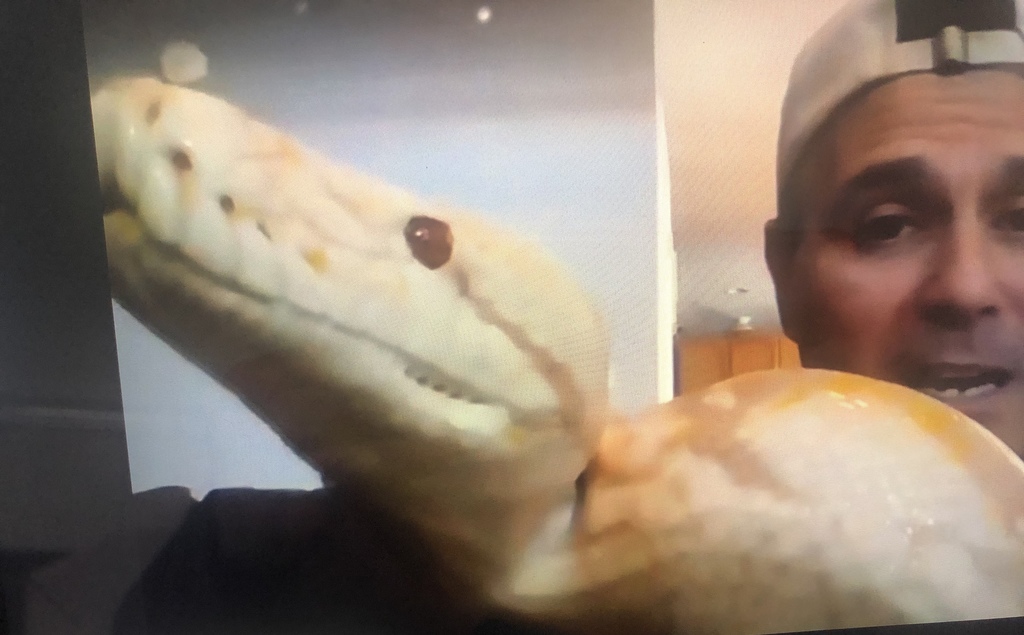 La recogida para los utiles de Wharton es este viernes de 9 a 12. Siga los conos en el estacionamiento hasta la puerta 5. Por favor escriban el nombre de su estudiante(s) un una hoja de papel para que podamos leer el nombre para mantener nuestra distancia. Llame si necesita un horario de recogida Wharton Supply pickup is this Friday from 9-12. Follow the cones in the parking lot to door 5. Have your child's name on a sheet of paper so we can just read the name to keep our distance. Please call if you need a different pick up time.




Hello Summit District 104 Families, Sending this message in hopes of a prosperous New Year for all. The social work and mental health team at Summit District 104 would like to ask you to complete the Social Emotional Screener for all the children in your household by January 18th. The screener is a tool that the team is using to best support the children and families of our district. Depending on the results a social worker may be reaching out to your family. Please click below to complete the SEL Screener survey.
https://forms.office.com/Pages/ResponsePage.aspx?id=Udcen7KONkCLZWoMvfR9XPUJY5s_A8BPoA6h3WR1HkpUQlJNOVZXV0I1UVY2QU1SSDRFVEc5Nk9RWS4u
Also, to support the children and families of Summit District 104 are the attached resources available below click on our website under the COVID-19 RESOURCES TAB.
https://sway.office.com/q7EoqkFz3sfvUaIz?loc=swsp
Please reach out to your school social worker with any questions or concerns! Wishing all our families a Happy New Year! The Social Work and Mental Health Team

Here is the newsletter for this week. Please review as we have offerings for after school clubs starting in January.
https://www.smore.com/7yu59
Have a wonderful break!

Village of Summit Holiday Parade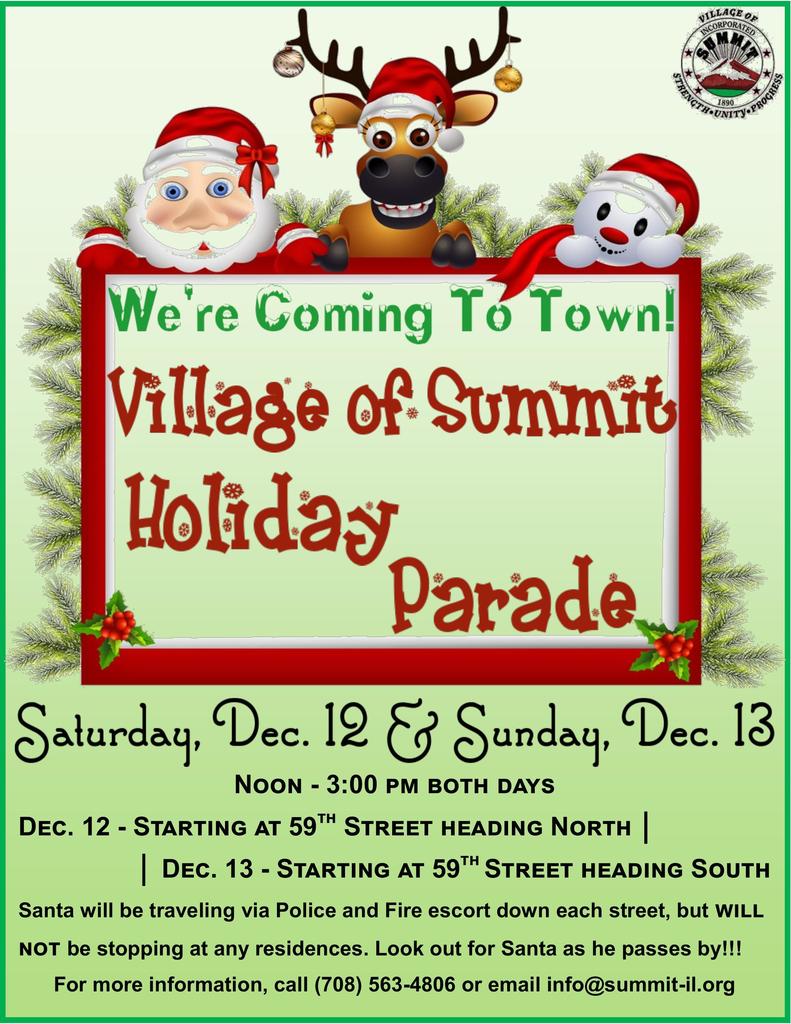 Missy Sinclair will be hosting a "Parent Tech Drop In Session" during Parent Teacher Conferences. She will be available from 4:00-6:00 to answer any tech related questions for our parents. Interpreting will be available. Click the link below to join.
https://zoom.us/j/99595809152?pwd=VDJ4bkNRNitqcmFOdzFVOC9Td0tqQT09
Missy Sinclair será la anfitriona de una "Sesión de asistencia técnica para padres" durante las conferencias de padres y maestros. Ella estará disponible de las 4:00-6:00 para responder cualquier pregunta relacionada con la tecnología para nuestros padres. Habrá interpretación disponible. Haga clic en el enlace de abajo para unirse.
https://zoom.us/j/99595809152?pwd=VDJ4bkNRNitqcmFOdzFVOC9Td0tqQT09



The History of Mariachi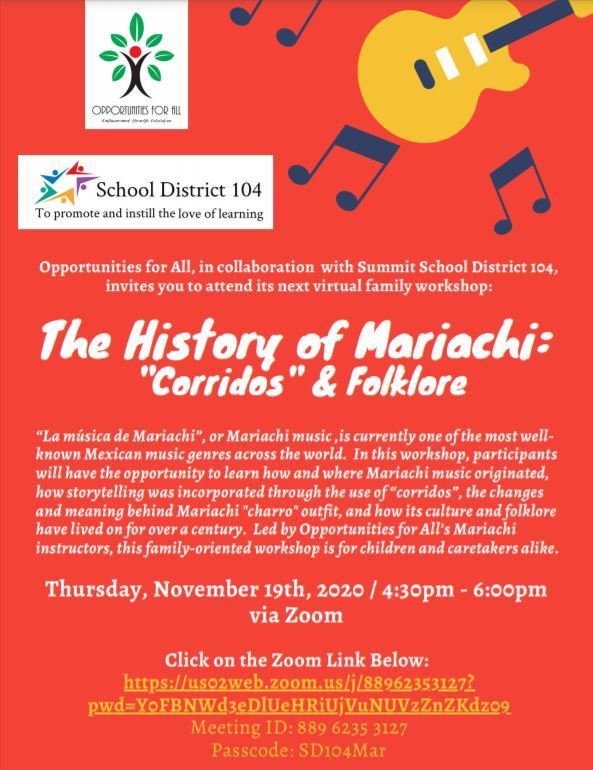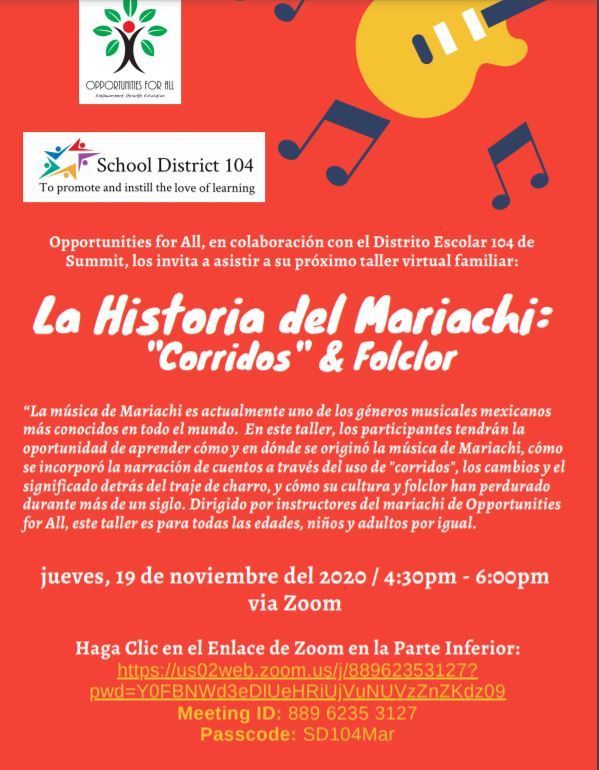 Congratulations to Ms. Xheraj's students for their nomination to the Junior National Young Leaders Conference. Ahmed Q Ozzy Z Emely S Amy S Leonardo S Karla P Ariana D Azusena C Daniel B Cristina B Giankarlo B