We hope all our students are having a wonderful spring break! School resumes on Monday, April 3rd. ¡Esperamos que todos nuestros estudiantes estén teniendo unas maravillosas vacaciones de primavera! La escuela se reanuda el lunes 3 de abril.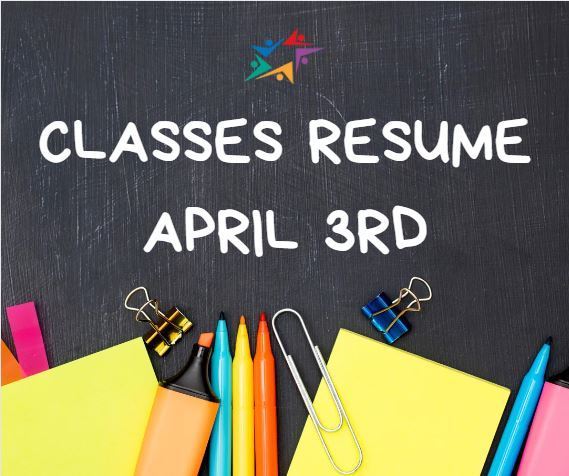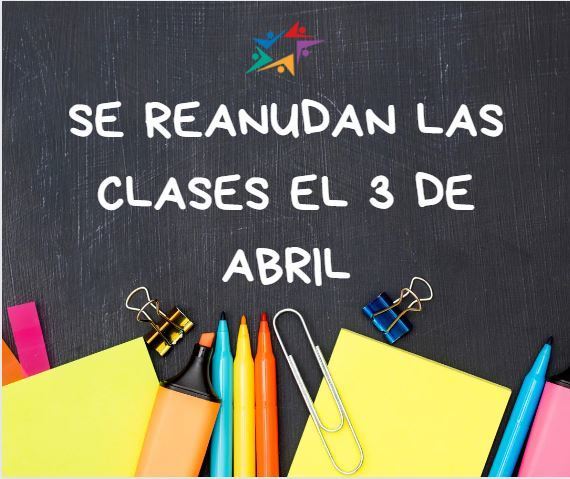 SD104 Regular Board Meeting Date: April 3 Time: 6:30 PM Location: HMS/Graves SD104 Reunión Ordinaria de la Junta Fecha: 3 de abril Hora: 6:30 PM Ubicación: HMS/Graves

Do you know someone who has graduated from School District 104 and has done amazing things within their profession and the community? Nominate them for School District 104's Wall of Fame!! 🤩 Each year the Wall of Fame Committee will choose up to 5 recipients for the School District 104 Wall of Fame. Nominees must be a graduate of HMS, Graves Junior High, or School District 104 before 2015. You can fill out an electronic form or send in a paper form. Both are listed below. Nominations are due by March 30th, 2023 (TOMORROW)! Electronic Form:
https://forms.office.com/r/i5uaU52Pzm
Paper Form:
https://docs.google.com/.../1z0tS3HNE6.../edit
... Forms can also be found under the Alumni tab on the School District 104 website.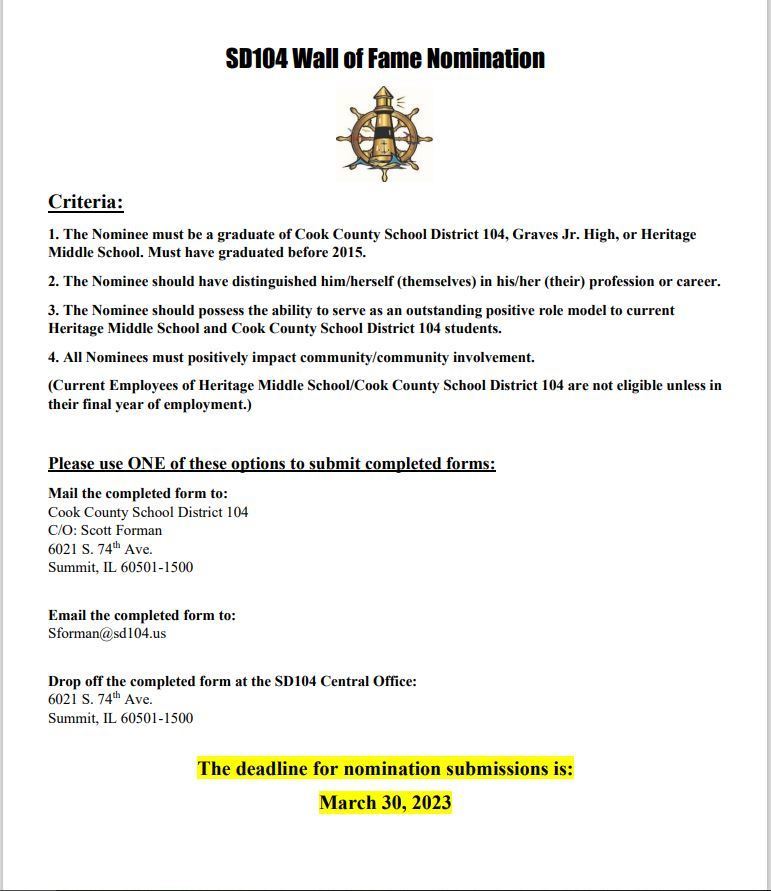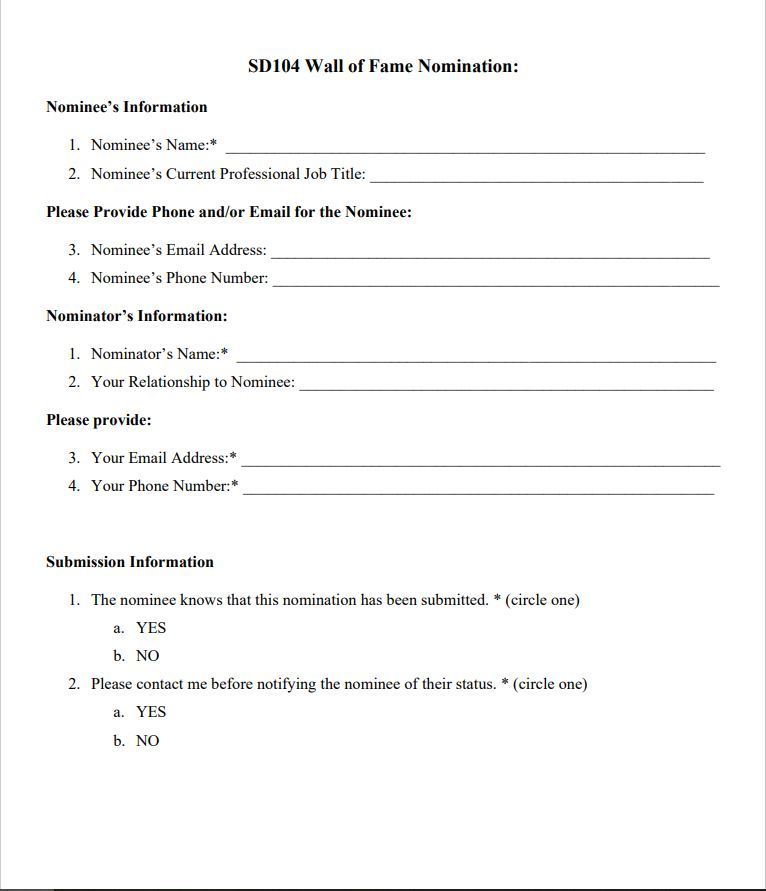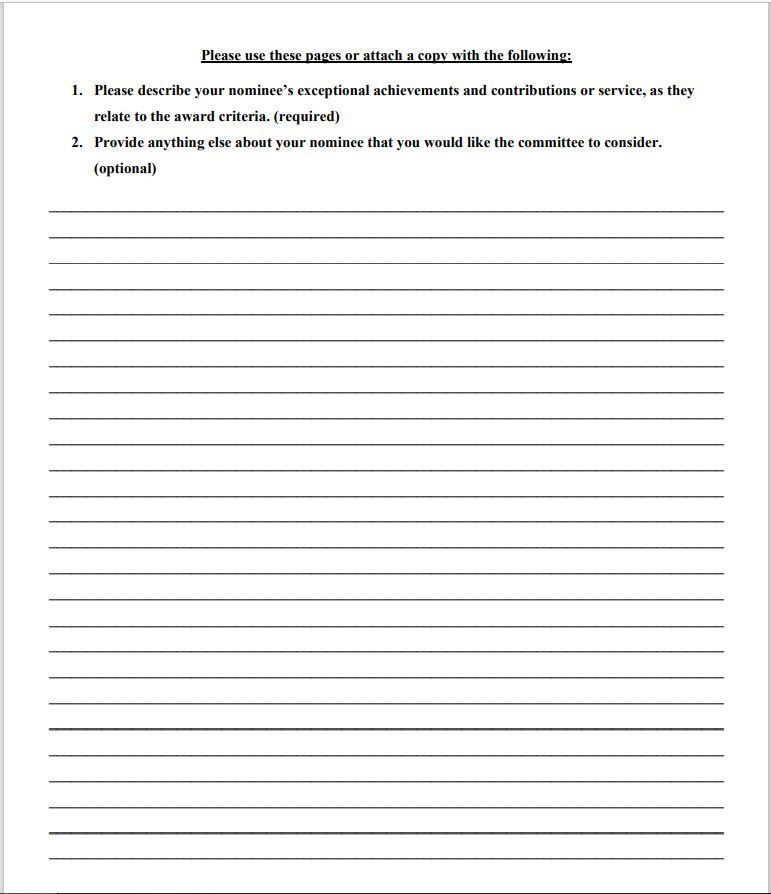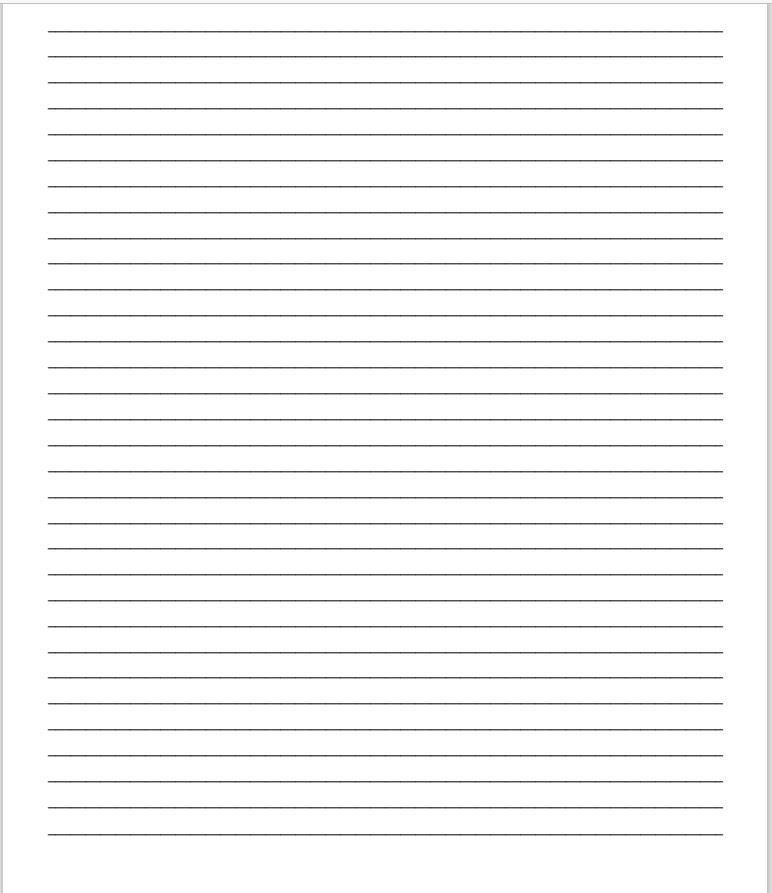 Happy Spring Break! Rest, Relax, and have FUN! ¡Felices vacaciones de primavera! ¡Descansa, relájate y diviértete!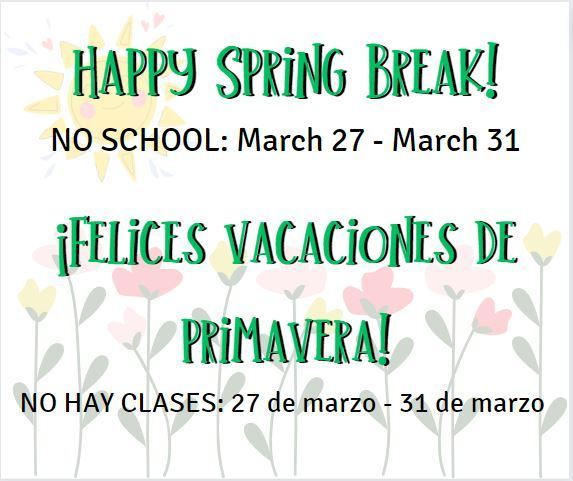 Notes from the Nurses - Strep Throat Facts Notas de los enfermeros - Hechos sobre la faringitis estreptocócica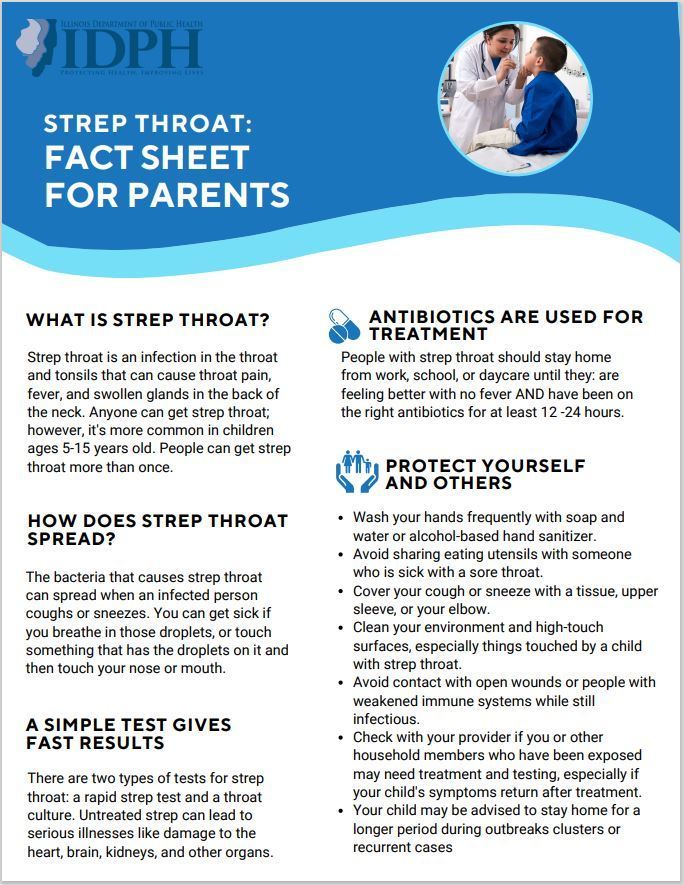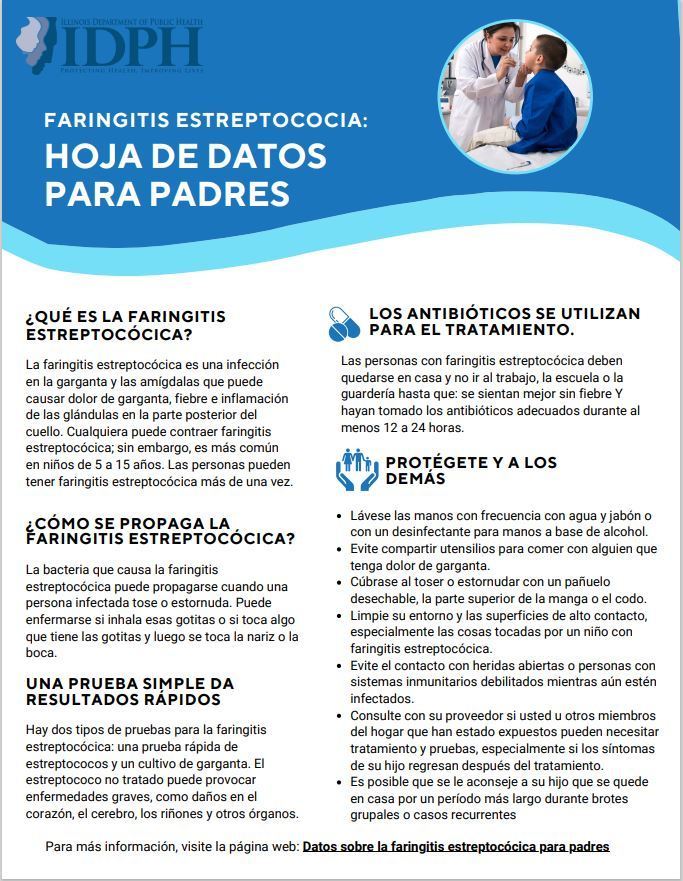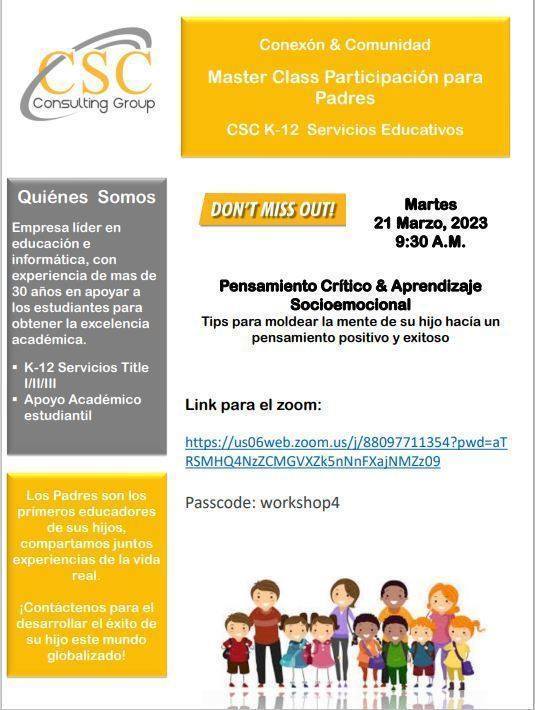 Spring break is next week! Rest, relax, and have fun! ¡Las vacaciones de primavera son la próxima semana! ¡Descansa, relájate y diviértete!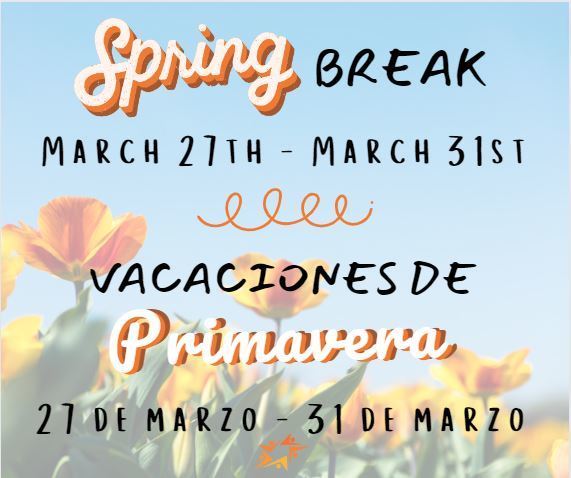 Recognizing the diversity of our staff as Nurse Tina shares her traditions with students at Graves during a read-aloud on St. Patrick's Day. Reconociendo la diversidad de nuestro personal, la enfermera Tina comparte sus tradiciones con los estudiantes de Graves durante una lectura en voz alta el día de San Patricio.

Students at Graves used their "Lunch with the Principals" coupon Friday! These coupons were purchased with their sailor slips/points for demonstrating the schoolwide expectations. ¡Los estudiantes de Graves usaron su cupón "Almuerzo con los directores" el viernes! Estos cupones se compraron con sus marineros honrados por demostrar las expectativas de la escuela.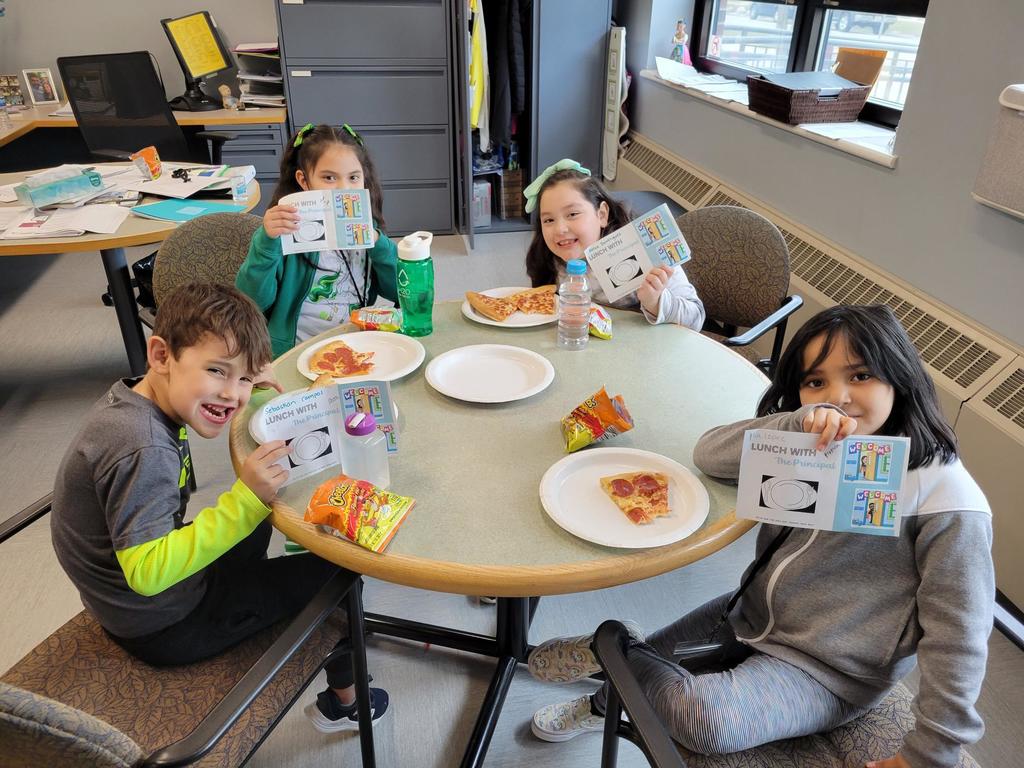 "Blossom by blossom the spring begins." Happy First Day of Spring!

Today Mrs. Sanchez's First grade class at Walker celebrated Saint Patrick's Day by wearing green, trying to catch leprechauns by making traps, and making rainbow toast. Hoy, la clase de primer grado de la Sra. Sánchez en Walker celebró el Día de San Patricio vistiendo de verde, tratando de atrapar duendes haciendo trampas y haciendo tostadas de arcoíris.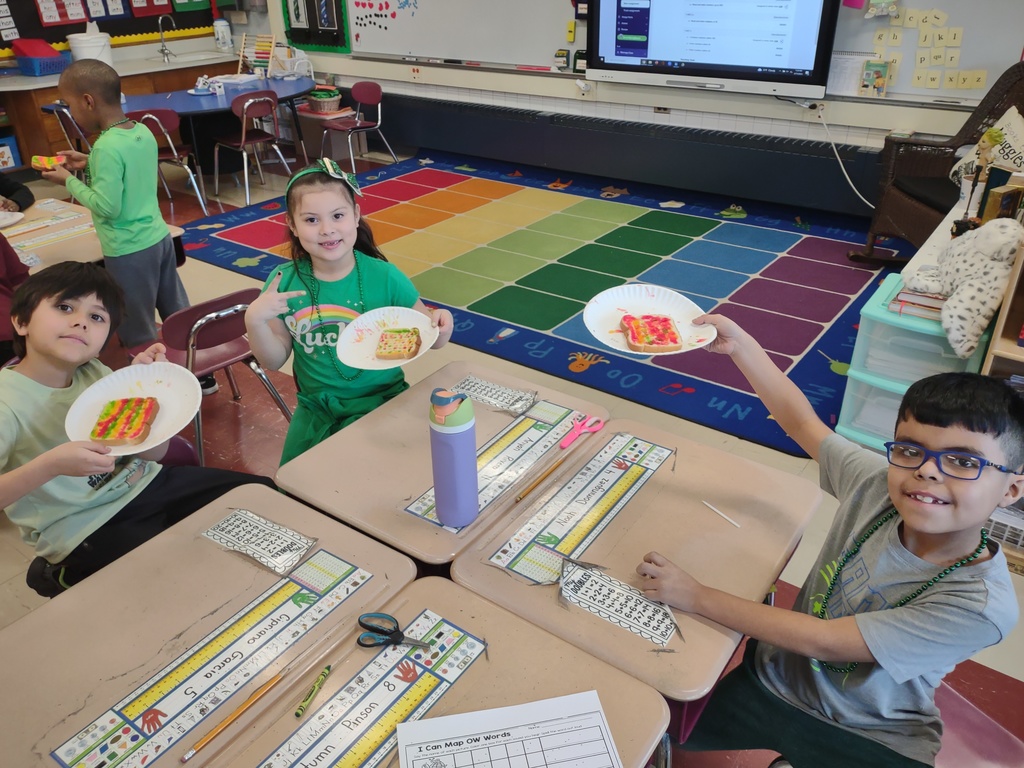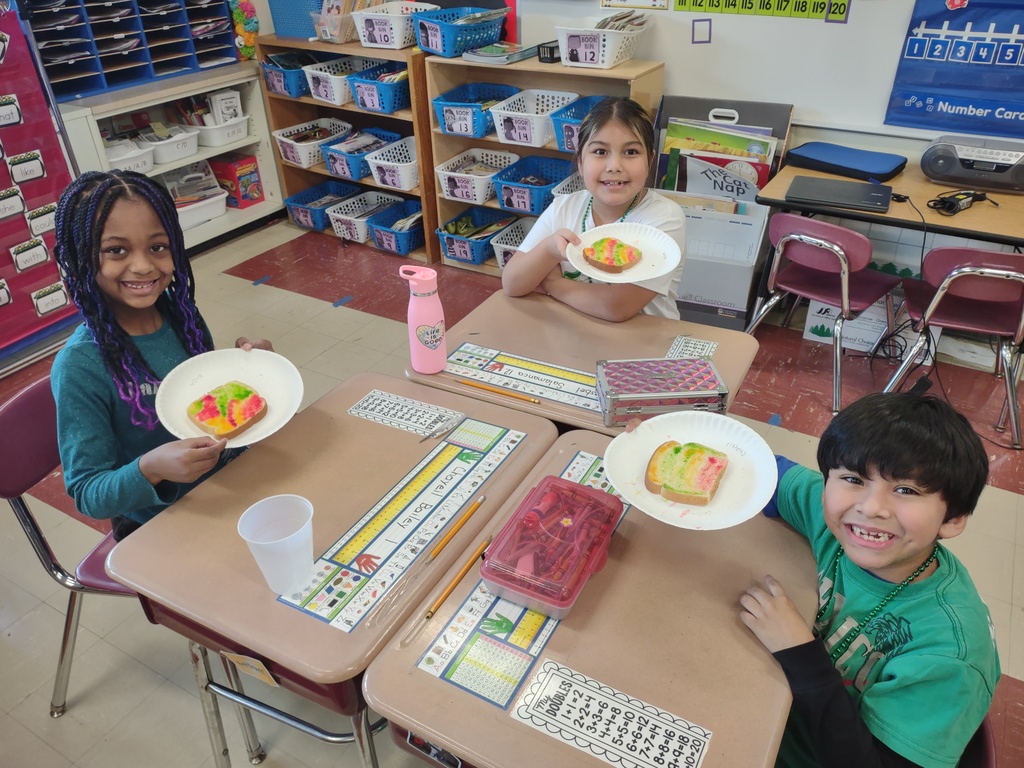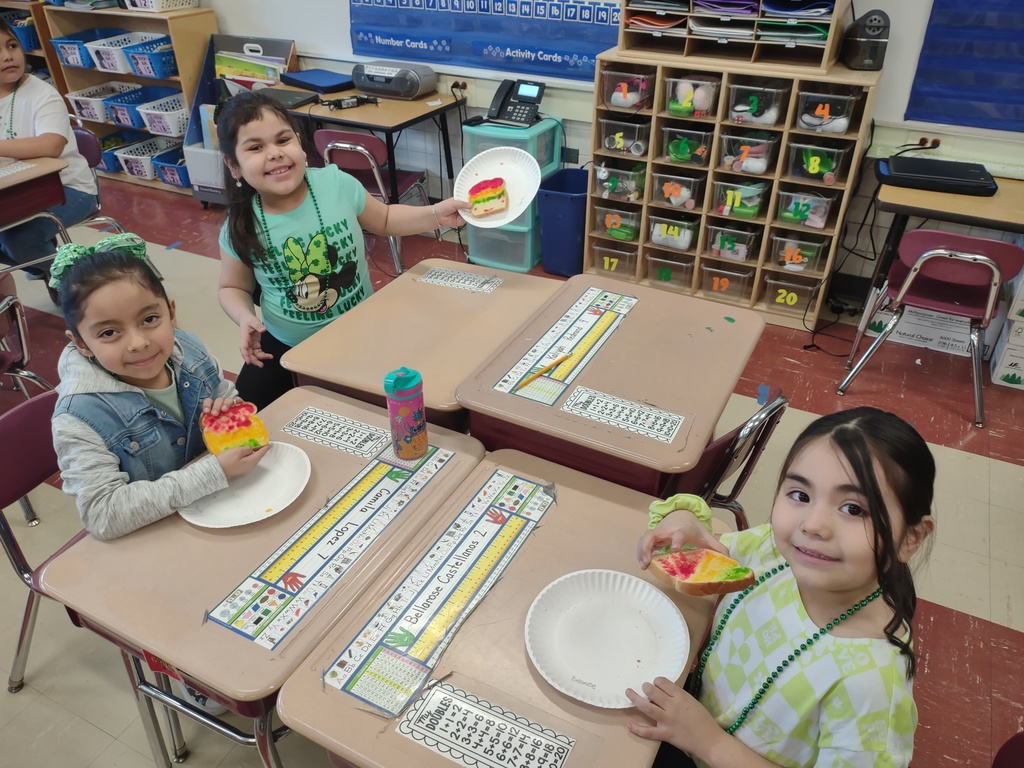 In 8th and 3rd grade, STEAM students created catapults or any launching device to fill the leprechaun's hat with marshmallows! ¡En octavo y tercer grado, los estudiantes de STEAM crearon catapultas o cualquier dispositivo de lanzamiento para llenar el sombrero del duende con malvaviscos!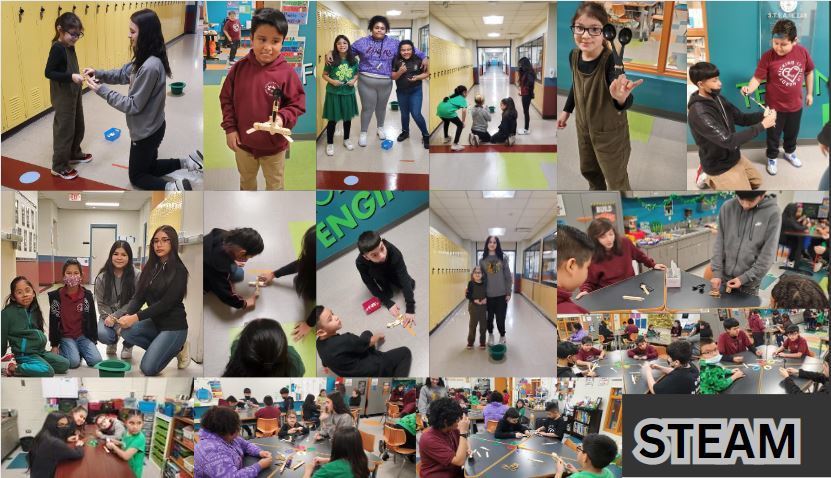 The leprechaun came to Walker School today!!! We made traps and went on a leprechaun hunt. Lots of clues were left and we found his gold!!! ¡¡¡El duende vino hoy a la Escuela Walker!!! Hicimos trampas y salimos a cazar duendes. Quedaron muchas pistas y encontramos su oro!!!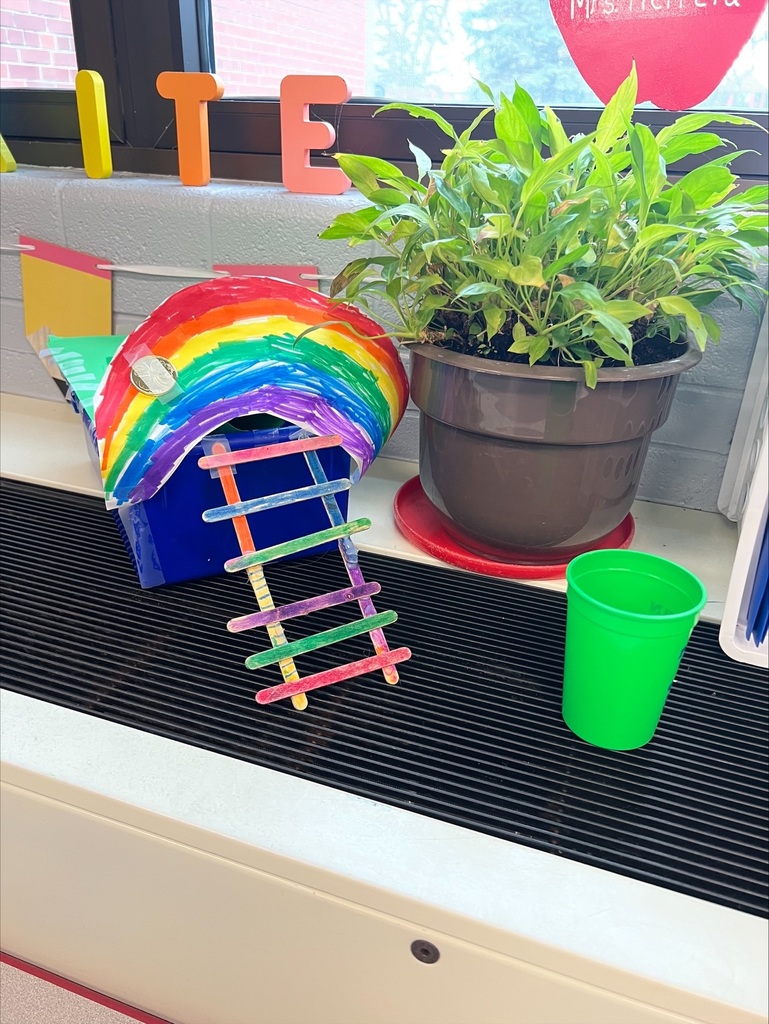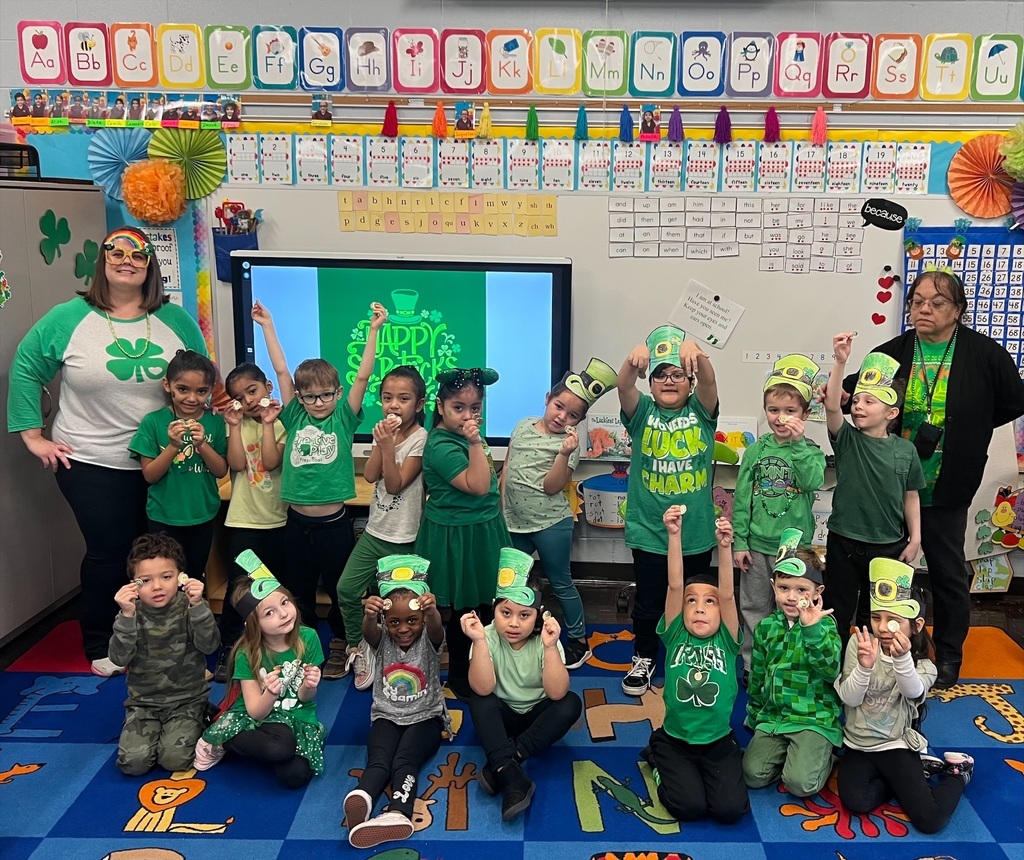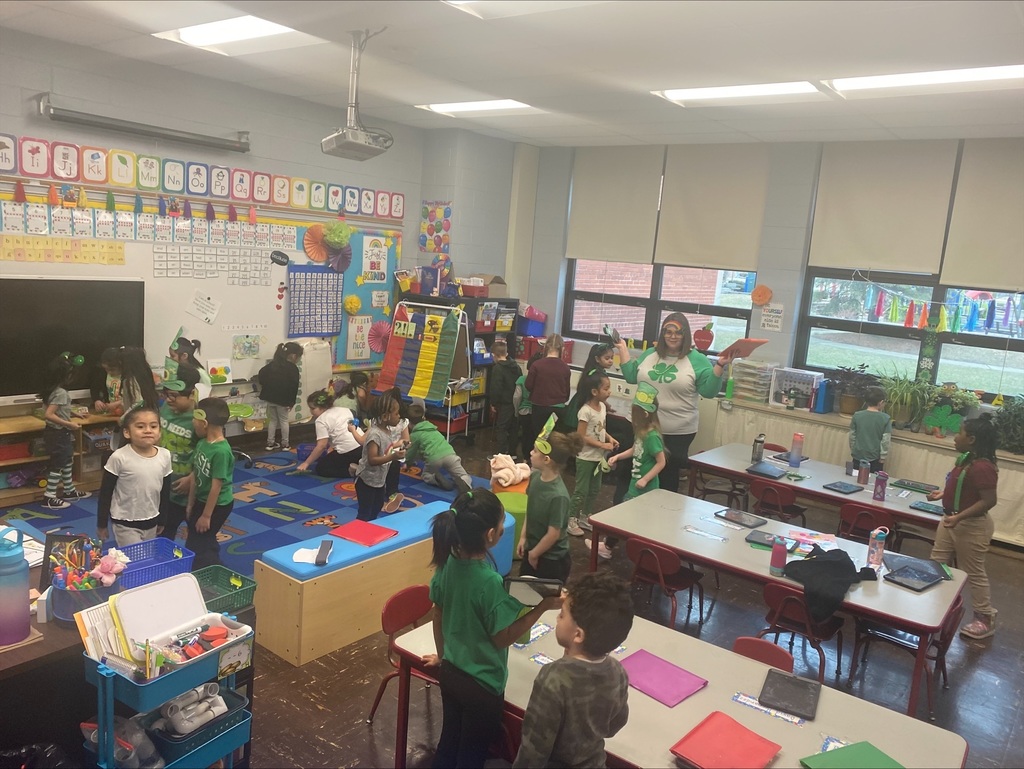 Knock, Knock Who's there? Irish! Irish Who? Irish you a Happy St. Patrick's Day!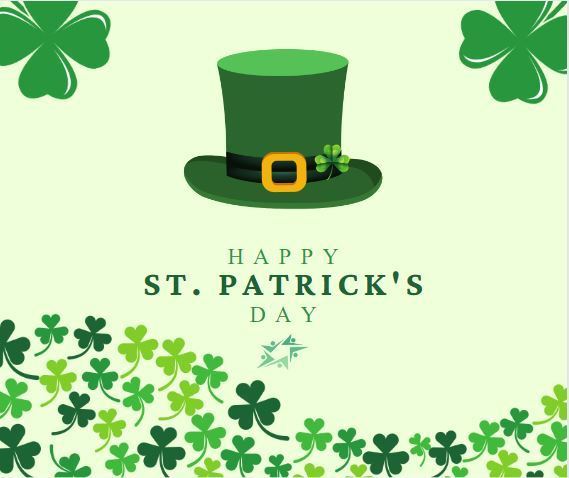 Ms. Kane's 3rd-grade class at Walker was invited to the AG day hosted by the Cook County Farm Bureau and the Chicago High School for Agriculture. The students were led around eight stations ad learned about agriculture including horses, sheep, goats, chickens, pigs, crops, and earthworms! Despite the cold weather, they had a blast! La clase de tercer grado de la Sra. Kane en Walker fue invitada al día AG organizado por la Oficina Agrícola del Condado de Cook y la Escuela Secundaria de Agricultura de Chicago. ¡Los estudiantes fueron conducidos alrededor de ocho estaciones y aprendieron sobre agricultura, incluidos caballos, ovejas, cabras, pollos, cerdos, cultivos y lombrices de tierra! A pesar del frío, ¡se lo pasaron genial!